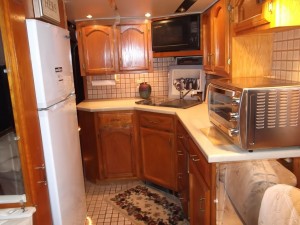 Oven, No Cook-Top
Oven Yes – Cook-Top No
When I recently moved into my smaller home, I was without an oven and a cook-top. Being a Baker, I resolved the oven issue first. This left me with the problem of solving not having a cook-top. You see besides being a Baker, I am a top-notch Chef 'Wanna Be'. I've had the privilege to design and cook in my own chef's gourmet kitchen in a large home. I know much about the 'joys of cooking/baking and creating'. But for now, it was time to research and come up with a viable and hopefully around $100 cook-top solution for my smaller home kitchen.
I have always been an advocate of gas ranges – powerful ones. That was not going to work in my new kitchen – although now through this research I am very impressed by induction cooking. I've also found that there is indeed a difference between glass top cooking and induction cooking. I used to believe all flat top surface cooking tops were the same. They are not…
Cook-Top
After much research and usually staying away from "as seen on TV" products, the
NuWave induction cook-top
showed high ratings and great customer reviews. NuWave boils in 90 seconds. That was the one hook to get me to purchase this induction topper. While it has taken me longer than 90 seconds to get my big pot to boil, it does everything else for me that it says it does. For now, I just need the one cooktop. I may get a second one down the road.
Why this one? The price came in around $100 target and I felt it would meet my needs. I like the way it cools down relatively quick.  Then I just put it away in a cabinet until it's needed next time. I could take it outside to cook in a protected area if needed. This cook-top is a here, there and anywhere kitchen appliance. I even like the pan it comes with. Simply wipe it out after my morning eggs and that is all that is needed. In a water conscious home that is a plus.  
Programmed temperatures, timed start and stop feature, so many temperature options – it works great for me.
Cook-Top w/Fry Pan – Yay
How to tell if your current pots-n-pans will work with it? Simply take a basic magnet and if it 'sticks' to the bottom of your current pans, you will be able to cook with them on this and any induction top stove.
Not only am I a happy smaller home kitchen baker, I'm also back to my chef wannabe status. Enjoy!