Live Event – June 10, 2023
Noon to 5 PM EDT – Attend Online
"I'll be the first to tell you, If you TRULY LOVE it, keep it. This is not about shaming you into getting rid of things – it's about You creating the Home Oasis you will love and will be proud of."
Downloadable Workbook Materials
Access to All Live Sessions, June 10, 2023
Downloadable Workbook Materials
Access to All Live Sessions, June 10,2023
BONUS: Complimentary copy of Brenda's Book
(retail $19.97)
BONUS: Unedited Event Recordings
($197.00 value, delivered 60-90 days after the event)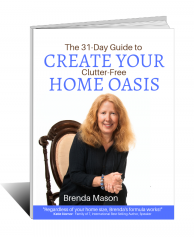 Check Out What People Are Saying:

Brenda is the guru of decluttering. I tend to be a packrat, and listening to her wisdom has simplified my life tenfold.
Author, Be the Spark, SimonTBailey.com 

Brenda goes into the emotional clutter codes that keep us attached to and trapped in our piles of belongings and gives us the key to change our beliefs, change our thinking and let it go in favor of creating the oasis we dream of.
Business Strategy Coach, TheFlamingoAdvantage.com

Brenda is both a great writer and the master of de-cluttering, and Creating Your Home Oasis will guide you to become a master yourself.
Owner & Editor, Tiny House Magazine

Downsizing Consultant, Tiny House Speaker & Best-Selling Author
"Regardless of the size of your home, you CAN make it Your Oasis."