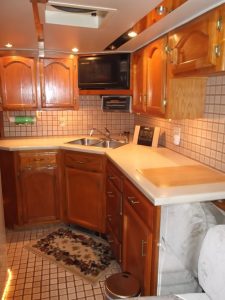 My Smaller Kitchen, No Oven
A baker, going into a smaller home kitchen, no problem. No oven in the smaller home kitchen, a baker, this is now a problem. Simply need to come up with a creative solution. There is some counter space, perhaps a counter top oven? Begin research. Realize that a counter top oven would indeed be a viable option.


Love the look of the larger Kitchen Aide oven, says it can hold a 12" pizza. Great brand. I'm mainly cooking for one person, so interior cooking size is doable. I purchase it, bring it home and after a day, realize I really want to be able to use a 9" x 13" pan.  I would also like the option of either convection or conventional baking. Return the Kitchen Aide. More specific search parameters and more research.
I decide on the
Oster
X-Large Convection Bake Oven. Not only does it conventional bake, it has convection bake, broil, toast, and warm. A timer, automatic shut off, up to a 16" pizza capacity, yes it can handle a 9 x 13 pan too. It uses 1300 watts and the outer measurements, 'almost' fit in the one space I have – not enough upper clearance. There is an automatic coffee maker underneath the cabinet where my oven needs to live. I am not a coffee drinker, so out comes the under cabinet coffee maker and in goes my oven.
I have taken my new oven through all the paces and I love it. The shut-off feature at the end of the cooking time is a wonderful safety feature.  Very useful when I am inside/outside working and loose track of time. If you don't want the oven to turn off at the end of the cooking time, simpy don't use the 'shut-off' option.
If I am not going to use the oven and need that counter space, I can move it temporarily to another location.  So far, I've left it right where I placed it.
Call me a "A Happy Baker, In A Smaller Home Kitchen With An Oven"!
For additional 'technical' particulars and information click below: