I have so much to say about water overall, but for today I'll talk about my current off-grid, non-running water for my tiny home life and current solutions. My smaller home does have a holding fresh water tank of approximately 185 gallons.  I have not yet filled it.   I would like to eventually drill my own well and hook up to that. In the meantime, I'm learning a lot about myself and day to day water usage/needs.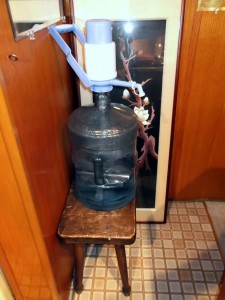 5 Gallon w/Pump in Kitchen
(the table was made by my dad
in shop class 65 yrs. ago)
Before My Tiny Home
When I lived in my larger home with city water, I used a manual filter system for our drinking water. I brought that filter system with me to Virginia.  (I go into and show that in another blog post here). My two 5-gallon water bottles and a 3-gallon water bottle with me.  The bottles were originally my 'emergency filtered water holdings' back in Utah. Now I use them in my everyday life.
Where I use them
I put one of the 5-gallon bottles in my kitchen area and the other in my bathroom. The 3-gallon bottle usually goes with me in the car, even going into the nearest town is about an hour away. Water is a great survival item to always have with you. After some research, I decided to put a basic hand-pump top on each and I love them. Extremely easy to use.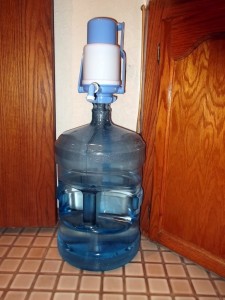 5 Gallon w/Pump in Bathroom
"Water Use Mindfulness"
When I first arrived in Virginia, I took a shower standing in a smaller removable tub (placed in a regular bathtub) at a family members home. They capture their shower water, pour that water into 2-gallon buckets and reuse the shower water to 'flush' their indoor toilets. Then they a have regular movable shower wand which has a stop water flow valve at the top.  There is a well and most of the time it does have enough daily use water, but they've had it run dry a few times, and have become very water conscious.  Anyhow, I took a full shower using their conservative method.  Simply get in, get soaked, pause the water while I wash, resume the water to rinse and done. My hair is getting longer so it takes a little bit more water too, but not much. I am still taking the same showers I use to take, getting fully clean – but I use just under 4 gallons of water, including the hair wash! Gotta tell ya, I was amazed. (back in the day not so long ago, I would easily empty a 40+ gallon hot water heater to shower)
Water
I am now aware of it in all uses. I am basically an exclusive water drinker, an important use.  So, I still do all the water uses I normally did, just in a much smaller way, by choice. Using exclusively my two 5 gallon water bottles inside my smaller home, I use the water for drinking, washing hands & face, brushing my teeth after every meal/snack, cooking, cleaning…regular everyday stuff. It is just me and I easily use right around or just less than 10 gallons a week.  ~That's it.
I am recommending two items.  The 5-gallon water bottle by New Wave is BPA free, refillable for reuse and does have a handle for easier use.  This water bottle can stand alone or be used with water coolers/dispensers.
The pump that I recommend is pretty versatile.  Varying water bottle sizes, 2-6 gallons, with a screw or plain top can be used with the pump.  Not for use on glass bottles.  It comes with all parts needed, as well as, a couple extras and cleaning tool.  I am all for the most for the least in cost and value, they are both versatile with more than one size or application, another area of import for me.  Oh, and extremely easy to use.
(it looks slightly different than mine, it's a newer version)
Whether you purchase either product below or find another source to acquire them, I highly recommend these two products for smaller home use, large home use, office, garage, camping, and preparedness.  Enjoy!