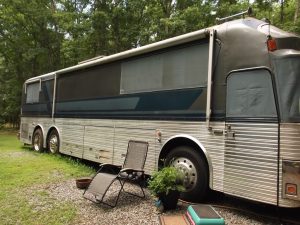 Smaller Living Huge Life – Conversion Coach Home
Smaller Home Sweet Home – Photo Friday – just a quick snapshot of my new smaller place.
The power of the camera is amazing, this angle makes my smaller home look huge…
It is an older bus that was converted to a motor coach in 1998…
…Back in February of 2015 (not very long ago) I was sitting in my 3100 s.f., 5 bedroom, 3 bath, rented home in Utah working on solutions to get back to Virginia in June, and attaining a much smaller, less costly and wallet friendly place to live.
I researched and love all the tiny homes, feeling that was my solution and loving the entire concept. Yet this solution was going to require time and money – even if I could build and re-purpose free materials. Could I convert some one's garage?  That too would take extra money & "time".  I love design and construction and decided I would want to take a little time on a build of any kind.  Hmmm, time is ticking, I'm going to move to VA – yikes rents are as high if not higher than I'm already paying, even for small places there…..Think of all possibilities inside and outside the box.
Outside the box:  A close family member had been attempting to sell their motor coach a few years back – I wonder…
I made a call, explained what I wanted to do – downsizing, off-grid living or as close to it as I could come, move back to Virginia to be closer to family, minimal overhead in expenses.  It was a win-win solution.  I have my home shown above.
Inside views and more details coming very soon.  I'll share my research and decisions and questions that every smaller/portable/off-grid home has had to decide and deal with.  I've been looking into and figuring out all that will work best for me in my own daily life style.  Solutions to power, heating for the upcoming winter, water supply, cooking, creative storage solutions, Internet, and the much talked about bathroom/toilet solutions…
I do love smaller living and my huge life!